"But what is pickleball?"
That's what I asked my husband a few years ago when he said he was going to go meet his buddies to try it out!
If you're new to the game or have just seen it advertised in your local rec center booklet, let me give you a quick introduction to the basics of pickleball, what you need to play pickleball and even what to wear for pickleball!

What is pickleball
Pickleball is a fun mix of tennis, ping pong and badminton. Just like tennis or badminton, you play it on a court with lines for different areas and a net in the middle.
A pickleball paddle looks more like a ping pong paddle than a tennis racquet, but it's in between in size. The ball is about the size of a tennis ball, but it's plastic with holes like a whiffle ball.
One of the great things about pickleball is that you can play it either indoors or outdoors. No matter where you live, it's a year-round sport.
The official rules of pickleball in America are set by the USA Pickleball Association (USAPA).
Read more: Learn all about the wonderful health benefits of pickleball
This page contains affiliate links.

Pickleball equipment: what you need to play pickleball
Fortunately you don't need much to get started playing pickleball! There are just a few essentials to pick up:
A pickleball paddle
A pickleball paddle can be made of all different materials from wood to plastic to fancy composites, but it does need to be standard size if you plan to compete. Prices range from under $20 all the way up to several hundred dollars! For a committed novice, I suggest starting with one of these – it offers the perfect combination of performance and value.
Read more: Best pickleball bags for women
Pickleballs
Thankfully balls aren't too pricey, because you will lose or break some! They need to be a solid color and I recommend choosing one that'll be easy to see where you're playing. These popular pickleballs are perfect for casual practice sessions and games among friends, though if you eventually go to competitions you'll need to make sure that all of your gear is USAPA approved.
If you play year-round, you might prefer a different color for indoor pickleball versus outdoor pickleball. Also note that indoor balls are generally a little smaller than outdoor balls.
Court shoes
You don't need to show up at your first pickleball experience decked out in USAPA swag or anything! But if you try out pickleball a few times and decide to keep going (or get a little obsessed like I did!) you should definitely treat your body to some supportive court shoes. Most true tennis shoes should work well – that doesn't mean any old casual sneaker, but an athletic true designed specifically for tennis. They'll keep your feet happy and prevent ankle injuries as you run back and forth across the court all morning.

What to wear for pickleball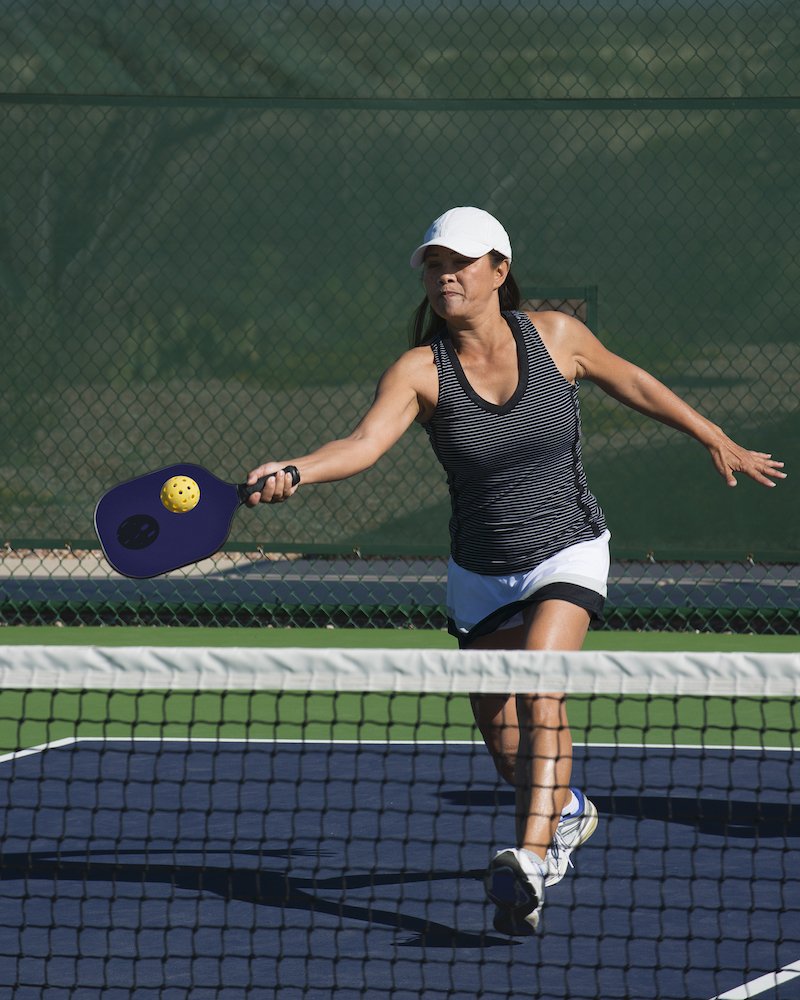 If you're just starting out, you can wear any comfortable outfit like you would for other exercise. Just make sure that your clothes allow plenty of movement so you can run back and forth. Remember, pickleball is a great workout!
For outdoor pickleball in the warmer months, lots of ladies wear a skirt or skort and an athletic top. If it's cool or breezy, an athletic pullover (like you'd wear for running) and leggings will work well.
Indoor pickleball courts can present a little bit of a challenge. You never know if they're going to feel stuffy with lots of people playing or if the AC will be blasting! I recommend wearing a short sleeve or sleeveless top and bringing a pullover just in case.
Read more: What to wear for pickleball

Where to play pickleball
One of my favorite things about pickleball is that you can play it all over America! In my town alone, we can play at the local YMCA, the city tennis courts, the country club and the Jewish Community Center. No matter what your budget it, you can find a place to play pickleball!
Click here to find your closest pickleball courts