When it comes to ladies pickleball clothes, comfort and mobility are the name of the game! You want to feel good and be able to move around when you're out on the court, so it's important that your clothes don't hamper or distract you.
Of course, it's always nice to look cute out on the court! In this guide I'll help you decide what to wear for pickleball and show some sample outfits to inspire you as you start shopping for your own pickleball clothing.
This page contains affiliate links.

Where To Buy Ladies Pickleball Clothes
Amazon has tons of clothes for pickleball to choose from! Quality can vary, so it's important to check reviews closely. But the fast, free shipping and easy returns make it easy to try lots of different styles. You can also find lots of inexpensive pickleball apparel on Amazon.
Click here to see Amazon's selections >>>
Title Nine specializes in cheery, high-quality clothes for active ladies. You'll find a nice range of skorts, tank tops and short sleeve shirts to put together your ideal pickleball outfit. Title Nine stands behind their products with their 360 Guarantee, which allows returns for up to a year (you'll have to pay shipping if you return by mail, but it's free to return in store).
Click here to see Title Nine's selections >>>
Lululemon is a leader in sports clothing and they have a great selection for women! I think their best pickleball clothes for women are their skorts (for summer) and their leggings (for winter). They also have lots of nice tops and sports bras so you can get your entire pickleball outfit there!
Click here to see Lululemon's selections >>>
Athleta is another boutique dedicated to active clothes for women. The style is a little more modern and edgy, and there are lots of great choices for pickleball lovers like us! I love Athleta's generous return policy: you can return items at any time if they don't meet your expectations, and they'll even cover return shipping for free. They call it their "Give-It-A-Workout Guarantee" and they really mean it – I once returned a rain jacket more than a year later after it left me soaked in a big rain storm.
Click here to see Athleta's selections >>>
We all know Lands End, they've been around forever making high-quality clothes for the whole family! They've really beefed up their activewear for women in the last few years and there are lots of options that will be great for pickleball players. They stand by their clothes for life, and they'll refund fully for the first three months (after that you can still get credit to try something different).
Click here to see Lands End's selections >>>
For all my friends out there looking for plus size athletic apparel for pickleball and all your other activities, head straight for the Adidas website! They have a huge selection of plus size leggings, sports bras, exercise tops and more in sizes up to 4X. I love that they're looking out for women of all shapes and sizes, and their marketing photos show all types of beautiful, active women.
Click here to see Adidas' selections >>>

What To Wear For Pickleball In Summer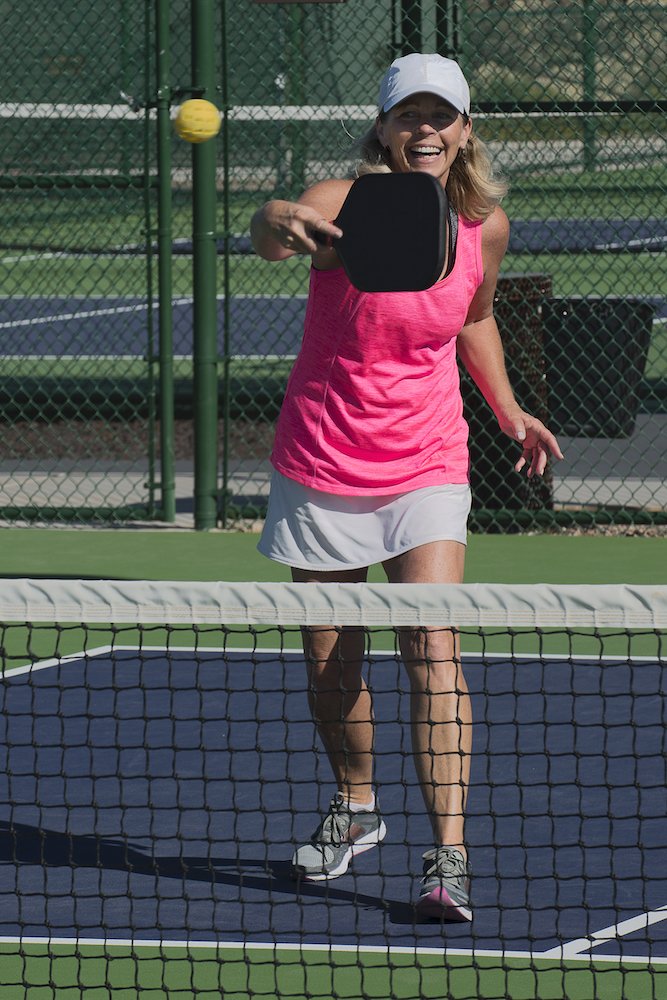 I'll be honest: when I'm playing pickleball outside in the summer, I usually want to wear as little as I can get away with! It's pretty humid here in Ohio, even first thing in the morning. Of course it's really important to protect your skin from too much sun exposure, so it can be a tough balance.
Ladies pickleball shirts
There are so many great shirts to wear for pickleball! I like ones with a collar or a little bit of a high neck to keep me from getting sunburned. Obviously sleeveless shirts are cooler, but a short sleeve will keep your shoulders protected. Here are some lovely choices to take a look at for the warm weather:
Ladies pickleball shorts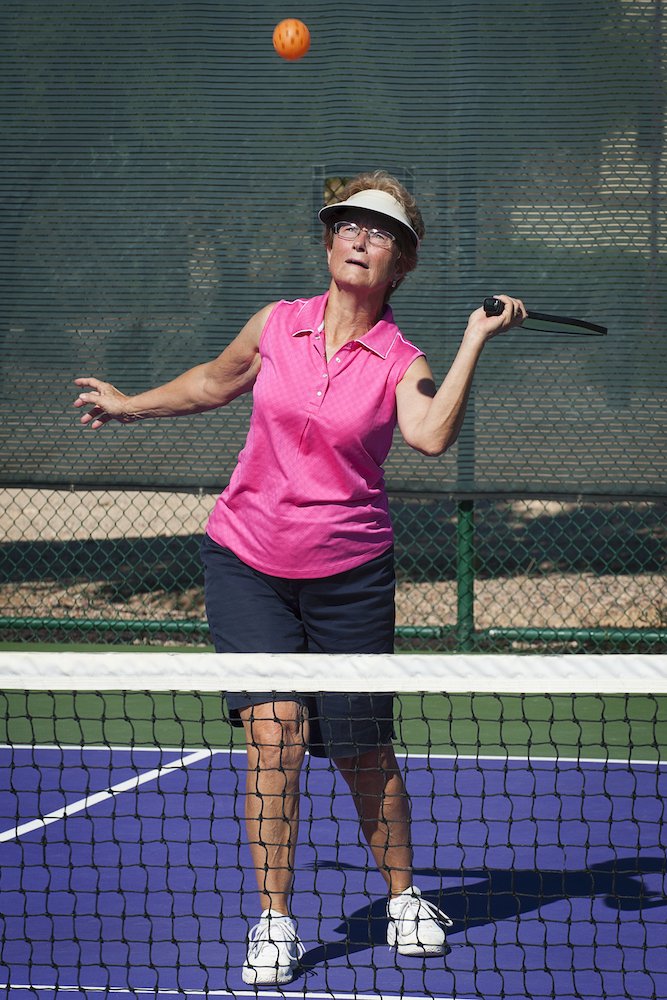 Shorts are a natural choice for all of us active ladies! They're easy to move around in and cool for the warm months. Depending on how comfortable you feel showing off your legs, you can opt for "short shorts" or more of a Bermuda length ladies short. Either way, you'll fit right in on the pickleball court! While they aren't 100% necessary, I always like to look for shorts with pockets – some of them are even big enough to hold a spare ball.
Ladies pickleball skorts
I love wearing skorts for pickleball so much that I wrote a whole article about them! What's so great about skorts? I prefer the way I look in a skort or skirt over the way I look in shorts. They're also great for going out for lunch or to run errands after I leave the court. From a practical perspective, lots of them even have ball pockets built into the hidden shorts underneath. All in all, I think they're a huge winner for women trying put together the perfect pickleball outfit. Here are a few of my favorites:
Ladies pickleball hats
Lastly, you might want to hit the court with either a hat or visor. It'll keep the summer sun and those wisps of hair out of your eyes.

Ladies Pickleball Outfits For Winter
Dressing for pickleball in winter can be tough in some parts of the country, and what you should wear really depends on whether you'll be playing indoors or outdoors (obviously more likely in the sunbelt). But even if you'll be playing with the heat on, you might still want a top layer to wear while you warm up and go from your car into the gym. You'll also probably want to swap those shorts and skorts for leggings!
Long sleeve pickleball shirts for women
If you decide to wear a long sleeve shirt for pickleball, be sure to choose a sweat-wicking material. Usually that's a synthetic like polyester, but you can also consider this awesome merino wool blend – I absolutely love it and I swear it doesn't feel anything like wool! Beware tops that are too bulky, which will get in your way when you're going after the ball.
You might also want to layer one of the sleeveless options below with a zippered jacket to give you the flexibility to open it up a little at a time as you get warm. If you do opt for a jacket, don't get one with a hood or it'll annoy you as it bounces around all the time. Trust me.
Leggings for pickleball
Lastly, you'll want some high-quality athletic leggings for your winter pickleball outfit. Just like on top, a synthetic fabric that wicks moisture is better than the soft leggings you might wear for lounging around the house. But every woman knows that leggings are so personal since we're all difference shapes! For specialty sizes you'll have better luck than at big box retailers, where leggings tend to all be very long and cut very slender.
Ultimate Stash Pocket 7/8 Tight (also available in Tall, Petite and Plus!)
Under Armour HeatGear Leggings
Petite leggings
If you're petite like me, you might wind up choose capri length leggings (or 7/8 leggings) from the "regular" sizes. Those will have a short enough inseam but might come pretty high up on your mid-section depending on how you're built. That's ok and just a matter of personal preference! I do try to avoid anything that's for average height and listed as high waisted, as those come all the way up to my sport's bra!
Ultimate Stash Pocket Capri (petite)
Mad Dash Reversible Crop (pictured above)
Core10 Onstride Legging – What a great idea! You can choose from two different waist heights, three different lengths, and sizes ranging from XS to 3X!
Plus size leggings
Thankfully brands are becoming more inclusive in their sizing and we're seeing more and more options for plus size leggings. Here are a few worth checking out:
Core10 Onstride Legging – These are the same ones as in the petite section, and I love how easy it is to customize the sizing for your perfect fit
Ultimate Stash Pocket 7/8 Tight
Adidas Designed2Move 7/8 Tight – These go up to 4X and are very reasonably priced for such a quality brand

I hope this guide has helped you choose some great new pickleball outfits to try out before your next game. Let me know what your favorite ladies pickleball clothes are so I can add them!
Next, be sure to check out these great ladies pickleball bags!