This page contains affiliate links.
You've learned what pickleball is and why you should play it. You've picked up your first paddle and some great balls. What do you need to buy next? A pickleball bag!
A ladies pickleball bag is the perfect way to organize and protect your pickleball equipment. Pickleball bags for women can range from very simple to beautiful custom options. In this article I've highlighted a few great ones that you should take a look at as you start shopping!
Quick picks: best pickleball bags for women
Features to look for in a ladies pickleball bag
Capacity
The first place to start in choosing your new ladies pickleball bag is to figure out what you need to carry in it. If you're just heading out to the court with friends for an afternoon, a small bag that holds a few paddles and balls will be enough.
But if you're going to a multi-day tournament, you might want a bag that's big enough to hold your entire paddle collection, your court shoes and a few different pickleball outfits.
If you plan to shower off after you hit the court, you'll want to look for a bag that has room for your toiletries and a change of clothes.
It's also nice to have a bag with at least one small exterior pouch for your phone and keys. Make sure there's a good place for your water bottle too!
Sizing
Let's face it: the sporting goods world is mostly made for men. It's not fair, but that's the way it goes.
Why does it matter if you're shopping for a women's pickleball bag? If you're petite like me, the bigger men's pickleball bags will be overwhelming! Even for an average size woman, you'll want to be aware of the scale of a pickleball bag so that you don't pick one that's uncomfortable for you to carry when it's fully loaded.
It's even important to pay attention to details like the length of shoulder straps for carrying the bag. That's a little less often a factor for shoulder bags or sling packs, but can be a big deal for pickleball backpacks!
Style and quality
There's plenty of personal preference that goes into choosing the best pickleball bag for your needs! Pickleball sling bags are very common and practical, but plenty of ladies prefer pickleball tote bags or pickleball backpacks. You can even get custom pickleball bags in beautiful fabrics from Etsy!
You'll want to try to get a sense for how nice the material is. That plays into not just the aesthetics but also the durability. Make sure the zippers look like they won't break quickly and that all of the seams are well-sown. You might want to look out for a bag that has little feet to stand on, but if not be sure that the corners are reinforced to avoid fraying.
There's always going to be a "better" or "fancier" bag. Whatever you choose, make sure it fits your budget. Sometimes a bag meets your needs right now even though it may not be high quality enough to last a long time; just be sure that the price tag matches how long you think it'll last!
Extra features
Just like style and quality, there are a lot of features that may be important to some and unimportant to others. For instance, some bags have a fold out hook to hang them up on the fence; that's a brilliant idea that'll keep the bottom of the bag from wearing out or getting dirty!
Lots of specialty pickleball bags have extra protection in the paddle compartment to keep your paddles from getting damaged in transit. Some have water bottle pockets on the outside (I won't judge you if you use them for extra balls instead!). I've even seen bags with ventilation holes to keep your stuff from getting too hot (that's especially important if you're storing shoes inside).
Ladies pickleball bag reviews
Need a roomy option? Check out these wonderful pickleball duffle bags (also available on Etsy)!
The manufacturers do a great job balancing a compact size that'll fit a woman's frame with enough space for all your needs. The outer compartment holds two paddles, and inside you can fit your court shoes and a complete outfit change (or more paddles!). The water bottle pocket is big enough for one of these, which will keep your water ice cold on even the hottest afternoons.
I love the sophisticated striped pattern, but they offer this one as well. This bag is a great choice if you'll be playing all day or even in a multi-day tournament since it's so spacious.

If it's good enough for Christine McGrath, it's good enough for me! The Franklin pickleball bag is a pretty classic pickleball sling bag, but it just has so many thoughtful features for players who are serious about the game. It's also a real bargain.
It can carry – are you ready for this? – up to six pickleball paddles. Most of us don't even own that many! If you don't need to carry quite that many, instead you can carry a few paddles, tons of balls, a change of clothes and plenty more.
The Franklin sling bag has some great touches for both comfort and convenience. The strap and back both have excellent padding and lots of adjustability. You can even switch the strap to the opposite side if you need to relieve pressure on one side after lots of carrying. The bag has three different zipper compartments to keep your stuff organized, plus a separate water bottle holder on the outside. I also love the built-in hook to hang it on the fence. Such a nice touch!

For those of us with aging backs, a pickleball backpack can be a lot more comfortable than a sling back or tote. The Athletico Compact City Tennis Backpack is technically for tennis, but I think it's even better for pickleball because our compact paddles will fit much better than long tennis rackets!
This ladies tennis backpack (make that ladies pickleball backpack) offers plenty of great features along with a tiny price tag. It's a little smaller than the Franklin sling bag, so it's best for a casual afternoon at the court rather than a full-day or even multi-day tournament. The outer pocket for your paddles is padded and zips from the side for easy access. The main compartment is big enough to fit your pickleball shoes along with spare balls and even a pullover.
It has a mesh pocket on each side – one for a small bottle and one for balls, perhaps – and several small outside compartments to keep your phone, sunglasses, wallet and keys all organized. It even has a hook to hang it on the fence!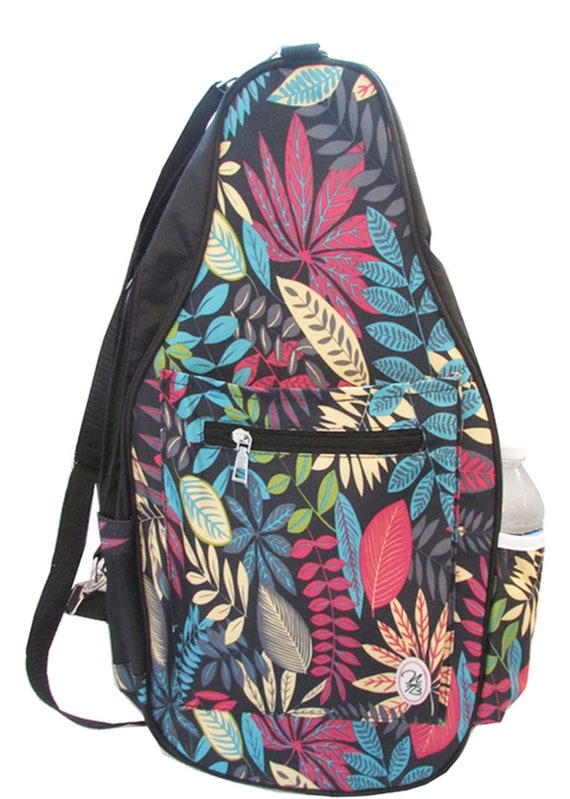 If you're looking for an amazing everyday pickleball bag designed just for women, this sling pack should be at the top of your list! It's handmade to meet the exact needs of ladies who love pickleball.
The outer pocket is designed to hold your favorite paddle (it slides in and out for easy access), but if you need space for backups you can fit three more inside along with balls and anything else you'll need for the day. The other pocket is big enough to hold just about any phone along with your keys and credit card. On the side there's an extra pocket to fit a water bottle or a few extra balls.
The biggest downside is that if you use a larger water bottle like this one you won't fit it in the outside water bottle sleeve, so you might need to put it inside. But if you only have one paddle with you then it shouldn't be a problem! The strap doesn't have a padded section, so if you'll be loading the bag with heavy items or need to walk a long distance keep that in mind.
You can find lots of beautiful prints with the same bag design here.

This wonderful hand-made bag can be worn either as a shoulder bag or a cross-body. While it's originally designed for tennis players, it works even better for pickleball players!
Why do I say that? Because there's a large compartment for racquets of any size inside, but the outside slot can fit your pickleball paddles! That gives you ultimate flexibility.
The shoulder strap has generous padding and durable hardware that you can even use to hang it from a fence. This bag even comes with an extra matching pouch that you can attach to the outside or slip inside for more organization. There's clearly been a lot of thought put into the design of this lovely bag!
The only downside is the hefty price tag. But I really think you won't be disappointed – this bag is designed with your needs in mind and is of such high quality that it should last you for years to come. It comes in a nice selection of prints to match any style.

I hope you've found a good option to carry your own pickleball gear! There are more styles of ladies pickleball bags being released every month, so don't be afraid to keep checking for more. In the meantime, check out some of my favorite skirts and skorts for pickleball and cute pickleball outfit ideas!